Used Boats:
224
Adverts Displaying:
1
-
10
Demand for these smaller Japanese Ropax ferries remains very high. This will be sold by tender in January 2021 for March delivery GWBPVUOCY225 This ferry will shortly be dry docked in Japan for surveys. Independent Japanese Marine surveyors may be appointed for inspection from Nov 11th - 18th. Built by Izutsu Shipbuilding in Japan, 1997, the ferry is in good operational condition in JG, Coastal Classification. LOA 53m x 10m. Powered by twin Daihatsu 6DKM-26 (1800hp ea) with twin Yanmar aux and bow thruster. Speed 15 knots. Car capacity for 2 x 4t bus, 5 x sedans. Passenger capacity ...
read more
GWBOGUBG124 Built by reputable builder, Extreme Marine in Geralton, WA in 2007 and designed by my friend, Gavin Mair. The vessel presents in excellent condition in current 1B (200nm) Survey. Powered by twin Cat C18 engines with economic cruise speed of 17 knots and sprint of 25 knots. Clear deck area of 50m² with cargo capacity of 4.2t. Extensive electronics. Accom for 8. Passenger capacity of 45. The vessel is located in Western Australia and available for inspection by appointment. Please feel free to contact us for further details....
read more
Year:
2007
Length:
19.97m
Location:
Australia
Price:
$1,750,000

View Details
Launched in 1990, this vessel is available ex Japan for prompt delivery (subject government approval) Built by MIHO Shipbuilding in Japan. LOA 56.49m c 8.8mtrs. Powerd by a Niigata 6M31AFTE, 1600hp with 2 x Niigata 6NSD-G auxiliaries. 4 x 60kW Hasegawa VZ62RM R22 refrigeration units with fish hold of 510m3 and freezer room 144m3. Compliment for 22 crew. Inspection may be arranged via independent surveyor in Japan if restrictions do not allow personal inspection. Please note that fishing gears on deck will be removed as required by government legislation prior to export. For a more detail...
read more

An exciting opportunity exists to purchase this hull/ superstructure for a 48mtr luxury MV that has constructed hull (80%) and superstructure. Direct from 1st class builder in Australia at bargain price. This luxury build is available by default. It is built to world 1st class standards. The superstructure is basically complete and the hull is around 80% complete. The buyer may complete the build at the existing yard or remove to their builder. Deep water access for loading direct onto deck cargo. Build to this stage is millions, however you can purchase this for a fraction of the cost sp...
read more
Launched in 2005, two sisterships are available for sale, located currently UAE. Built by owner/ operator in current ABS +A1, Towing Vessel, (E), +AMS LOA 40m x 11.4m Powered by twin MAK 8M20 engines (2100hpea) with fixed pitch props. 3 x 300kw generators via CAT 3408 DITA engines with 3.7t Bow Thruster. Bollard Pull 60t. Accom for 18. Endurance 27 days. Dreggen Crane 2.6t@14m. Clear deck area 16mtr x 8mtrs. For a detailed specification, please feel free to contact us....
read more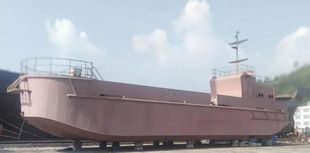 This vessel is almost complete. Buyer defaulted during the build so now on the maret. Can be ready for delivery approx 2 months signing. Below new build price. Cargo Capacity 290m3. Powered by twin 350hp engines. Oil Transfer pump 50m3hr. The vessel may be inspected at the shipyard in China by appointment. At this stage, slight modifications to suit end user may be considered. For a more detailed specification, please feel free to contact us....
read more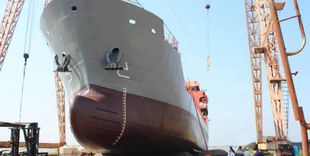 This small tanker has just been completed and can be ready for delivery within short timeframe. For a more detailed specification, please feel free to contact us.​ The ship is built and classed to CCS Classification. LOA 69.2m x 11.2m with loaded draft at 3.8mtrs. Powered by single 6210 ZCL-21 main engine (883kw). 2 x aux engines and anchor genset. Cargo tanks (5) are all Stainless Steel with double bottom / sides. Inspection at the shipyard is available by appointment....
read more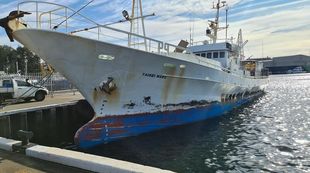 I have mentioned prior the quality ocean going ability and quality of these vessels, this is no exception. In full operational order under Unrestricted Navigation. At the time of these pictures, she has just come back to berth from fishing and preparing for upcoming DD. Built in 1992 for Japan Rail at a cost of over $USD6m by Jrou-Ryou Shipbuilding, Japan. Powered by a Niigata 6M6-22HX 700hp engine with 2 x Niigata 6NSF aux (port rebuilt 2017, stbd 2016). Consumption approx 1.5t pd cruising, 1.1tpd working. 6 cabins with total accom for 22 with ducted airconditioning. Fuel Capacity...
read more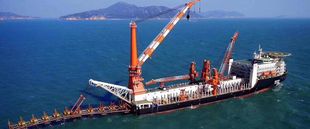 Built in 2019, this 172mtr non propelled Pipe Laying vessel has just completed her initial work and now available for charter or sale. The vessel is designed up to 5km of pipe per day (S-lay, Stinger)via two transmission lines to a depth of 350mtrs. 12 point mooring system.Classification CCS (may be dual) CSA,Pipe Layer,Floating Crane, Lifting Appliance,Non-Propulsion,Crew Accommodation (MLC)ICE Class B. Accommodation is for 238. Main Crane 500t and 2 x 50t aux....
read more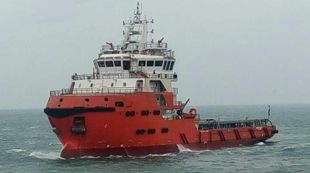 This vessel has just completed sea trials and can be available for delivery within 1.5 months. Very high spec fully imported components/ machinery. Class notation: ABS +A1 (E) Offshore Support Vessel,(Supply - HNLS, AH, Tow, FFV 1) + AMS+ DPS-2 UWILD .SPS. LOA 78mtrs. Powered by twin Wartsila 9L32 engines (4599kW@750rpm) with CPP, speed 14.5 knots. Bollard Pull 150t. 3 x 12t Kawasaki Thrusters. 2 x Cat C18 450ekW and 1 x Cat C32 850ekW generators. McGregor Plimsoll Power Packs and towing gear. Accom for 50. Cargo deck area approx 520m2 and 1000t capacity. The vessel may be inspected at the...
read more